Thanks for a great 2020 Season!
We are currently closed for the season.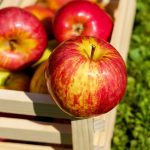 Apples
Late August – October
We have many varieties of apples growing (not ready for picking yet), including Honeycrisp, Zestar, Sweet Sixteen, Harrel Red. Check them out when you come for pumpkins in the future!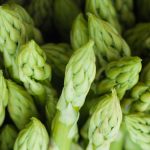 Asparagus is often ready before we have anything else. Just call to check on availability and we will try to have some ready for you!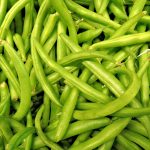 One of Farmer Greg's favorite vegetables.  I love them steamed with a little salt and butter, or browned in butter, or in soup.
We have Green Beans, Yellow Beans and Dragon Tongue Beans.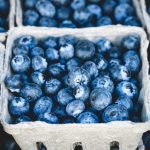 We have four different varieties of blueberries. This season two varieties have the most berries -Superior and Patriot.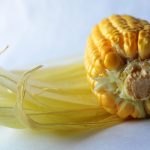 Sweet Corn
July – September
We are trying 2 varieties of sweet corn this year. Ambrosia is a bi-colored early variety. Serendipity has been around for a few years, and is a triple sweet variety that has been extremely popular.
Price: $.75/ear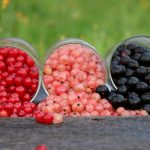 The red, pink, and white currants are being used for White Pine jams and jellies. Black currants have a unique flavor and are often used for sauces to enhance flavor of pasta and meat dishes.
We only have U-Pick Currants.
Prices: $5/Pint  :  $10/Quart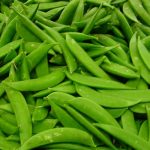 Peas - Edible Pea Pods
June – July
Pea pods are a perennial favorite in a stir-fry, salad, or just raw. Think about picking some when you come for strawberries!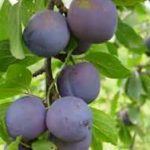 In the future, we will have 2 varieties of plums to offer – Black Ice and Toka.  We are looking forward to using plums in some of the preserves.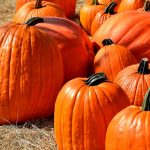 Pumpkins
September – October
Our pumpkins come in all sizes and shapes.  Come and get yours right out of the field and think about going through the corn maze that same day.  Share photos of your carved or painted pumpkins to our Facebook page or tag us on Instagram!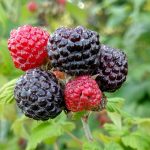 Raspberries
July – September
I love our summer red raspberries. The two varieties we have are Nova and Killarney. They are both great for all you might want to use them for, including fresh eating, jams and jellies, pies and all those other creative uses, including smoothies. Keep us posted on how you use them, and check out how beautiful some of our customer's photos are on facebook. Our guests love the wagon rides to our larger but more distant patch of summer red raspberries. We also have fall red raspberries, Autumn Britten, Farmer Greg's favorite.
The black raspberries we have are a variety called Jewel, and they are delicious. They will be available mostly as pre-picked and are a little more expensive since they are not as common to be grown in this area. They are not recommended to be grown this far north, and last winter's cold temps did more damage than I had hoped for. We still have an acceptable crop and the first berries are large and scrumptious. We will be making jams and jellies out of some of them.
The gold raspberries we have are called Anne. It is a very large berry and very sweet. Anne is a fall raspberry, but a few plants have berries develop earlier and I can share one or two with customers occasionally in mid-summer. They start to produce more near the beginning of August, about the same time our fall red raspberries should start producing.
Red Raspberries
U-Pick Prices: $4/Clamshell  :  $5/Pint  :  $10/Quart
We-Pick Prices: $6/Clamshell  :  $7/Pint  :  $14/Quart
Golden and Black Raspberries
U-Pick Prices: $5/Clamshell  :  $6/Pint  :  $12/Quart
We-Pick Prices: $7/Clamshell  :  $8/Pint  :  $16/Quart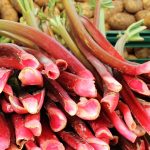 We make a lot of different jams, but strawberry-rhubarb is the number-one seller. Rhubarb is great as a sauce too.  Farmer Greg loves the tartness, so he doesn't tend to use as much sugar as some people might.  We love the sauce on top of vanilla ice cream!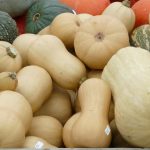 The Butternut squash is super interesting. It is a tan/bronze color when ripe and often shaped like a bell, with a long neck and a wide base. There are only a limited number of seeds and the skin is very thin, so almost the whole squash is useable. Just cut off the very top and bottom, slice in half, clean out the seeds and pop it in the oven or micro with butter and seasonings and it is great. And if you prefer, the skin is so thin, you can peel if off before you cook it.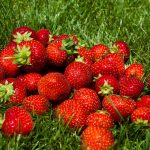 Strawberries
June – early July
Many new customers do not know there are different varieties of strawberries, each with their own unique flavors and characteristics. Our early varieties are Jewel, Cavendish and Flavorfest. Record and Malwina bloom later and extend our growing season. Come on in a check out which one you like the best!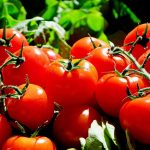 We will have tons of Slicers and Romas ready for you this year.  Using Romas in fresh salsas and slicers on hamburgers…it's just hard to beat!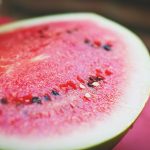 Watermelon
Late July – September
We will have small, personal-sized watermelon this year! Most will be around five pounds. And if you are out for the corn maze, pumpkins, or red or gold raspberries, think about a watermelon. You can eat it here with your picnic or do what our neighbor did. He carved the top off like a pumpkin, took the fruit out as balls and then carved the watermelon like a pumpkin!