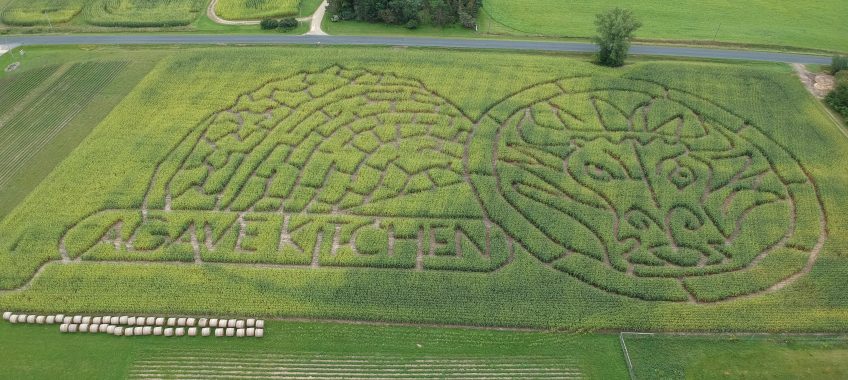 We are excited to announce we are working with Agave Kitchen from Hudson Wisconsin this year as the sponsor of our Corn Maze!
Corn Maze and Pumpkin Patch Hours:
Tuesdays/Thursdays: 9AM-2PM
Saturdays: 9AM-6PM
Sundays: 1PM-5PM
There is no entrance fee* to the farm. For the Corn Maze we charge $7 for Adults, $5 for ages 3-12, Under 3 is free!
*Entrance fee is collected on Fall Family Days, which includes the Corn Maze, see prices below.
September 14
Our opening day for the Corn Maze also falls on a special day designed to help you enjoy "A Day in the Country"
We are teaming up with 3 other local farms to provide you a "Farm Crawl" throughout the area! Come learn about all the different crops we produce on each farm, and meet the farmers
Admission is free, we do charge $7 for the corn maze (13+) and $5 for ages 3-12. Under 3 is Free! Pumpkins are priced by size.
White Pine Berry Farm – 9AM-6PM
Wagon Rides, Corn Maze, Pumpkin and Raspberry Picking, Sweet Corn
Lunch will be available from 11:30-1:00 (Brats, Hot Dogs, Cheesy Potatos, Chips, Drinks and Raspberry Desert)
Wolf Honey Farm – 9AM-4PM
Learn about Bees & Honey! Honey, Candles, Soap, Lip Balm, Vibupro Cough & Cold Remedy and more!
Maple Leaf Orchard – 10AM-5PM
Pick your own apples, Hay Rides into orchard, donuts, and apples pies!
65 Vines Winery – Noon-5PM
Open for Wine Tasting of Award winning wines! Vineyard and Winery tours along with 13 acres of pollinator habitat with hiking trails and a dog-friendly atmosphere.
September 28 & Rescheduled to October 19
We have extended our Fall Family Day to 2️⃣ Weekends this Fall!
Bring your friends and family out to White Pine Berry Farm for our 8th annual Fall Family Days! We will have all of the fan favorites such as the Corn Box, Pumpkin Picking and Painting, Corn Maze, Wagon Rides, with a guided tour, Raspberry Picking, Bounce House and Pinatas!
Admission:
$8 for Ages 13+
$6 for Ages 3 to 12
Ages 2 and under FREE!
Pumpkins, Produce, and Food are extra
October 26
Come visit us on our last weekend of the season! Come in your costume and receive $1 off the corn maze admission price.
Bonus points if you actually dress up as a pizza!!
Consuming Fire LLC will be at the farm cooking wood fired pizzas for lunch 11-1, weather permitting.
No entry fee to get into the farm. Corn Maze, food, and produce additional cost.